Bathroom Remodeling Ideas
Bathroom remodeling ideas can be broken into categories: Vanities, tub/shower walls, tub types, flooring, plumbing fixtures, lighting fixtures, and shower door styles. I'll go into some of the options for the different categories.
Vanities
Vanities can have different heights, widths, depths, toe kick/legs, wood types, stain types, and door styles. The normal vanity with countertop is 31.5" tall, and 21" deep, but if this is too small then some people use kitchen size cabinets which are 36" tall by 24", or 21" deep. I find that a custom height can often be better at a cabinet height of 32", with countertop equalling 33.5"
When ordering a vanity there are two types of companies, the stocked pre made vanity manufactures, and the more common made to order custom cabinet vanity. The pre-made type of vanities usually ship in 3 to 10 days, and the made to order customized vanities will take 3 to 6 weeks. The advantage side to the custom vanities is being able to choose the exact wood, stain/paint, door style, and layout that fits your space.

The typical minimum width for a vanity with 2 sinks is 5', and one sink 24"

The bottom of the vanity can be toe kick (cabinet style), decorative valance toe kick, wall mounted open underneath(contemporary), or decorative legs(furniture/dresser Style).



Classical Styled Furniture Vanity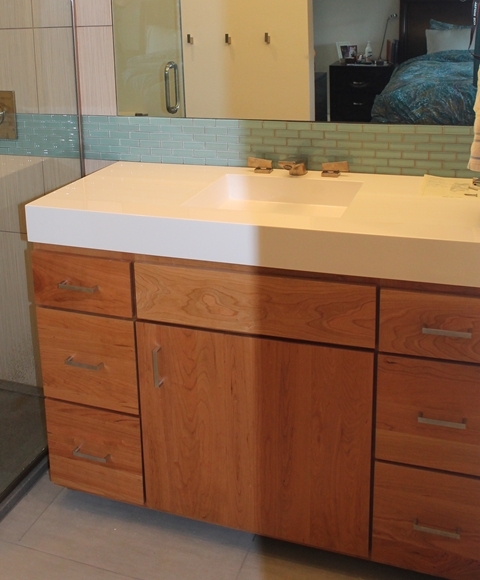 Contemporary Vanity Hidden Toekick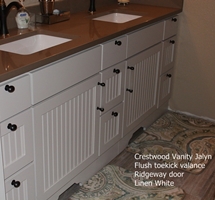 Toe kick Valance Vanity
Custom Cabinet Style Vanities
Exotic Veneer Frameless Vanity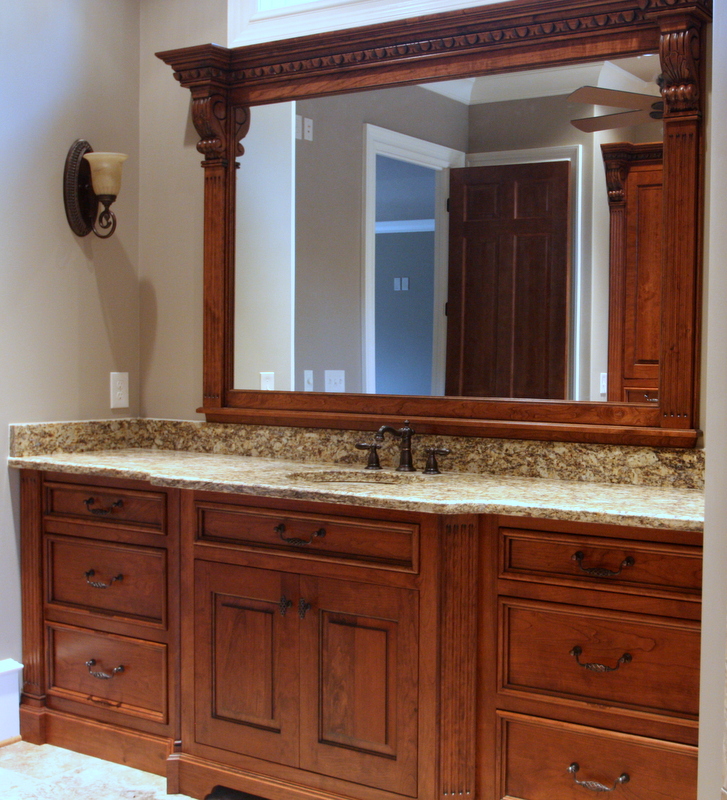 Break front vanity
Flush toe kicks with valances
Tub, Shower Walls and Floors
Tub and shower walls are usually tile of some sort, but there are some solid surfaces available (see onyx page). Tile is either natural stone, porcelain, ceramic, or glass. To me the 12x12 or larger work best for field tile because of less grout joints to clean, and looks better. The small mosaic sheets of tile, or glass work best for decorative bands, or a backsplash.

Porcelain would be the most user friendly because it's very tough, easy to clean, and most water resistant. Natural stone can be a little absorbing, harder to clean, more expensive, and must be sealed now and again. Solid surface is the easiest to clean as far as having no grout joints. Our main supplier for porcelain, or natural stone is Arizona Tile.
Shower Pans can be the custom made for tile type, or the premade type. For the premade type my favorite brand is Onyx, which comes in custom sizes, many colors. I have been putting in a lot of the Onyx pans lately , and find them cleanable, tough, and nice looking.

The bigger tiles work better on the main floor as well, and the same advise on clean ability holds. Tile works great over electric heated floors. The heated floors are not as expensive as you might think and use a low amount of power. The latest trend in floor tile is the long and thin tiles 12x24, or even 6x36.


Natural Stone Shower
Solid Surface Shower
Long Thin Style Tile
Bathtubs
Bathtubs are made of acrylic, polymer, porcelain coated cast iron or steel, and fiberglass. Acrylic is increasingly becoming the material of choice because it is light weight, washable, strong, scratch repairable and affordable. Polymer tubs are tougher than acrylic, can be cast into cool shapes, but are expensive. Porcelain coated cast iron is extremely heavy, can chip, and stays cold. Fiberglass fades and dulls with age. Porcelain coated steel is ok for a bargain but also is cold and can chip.

The different bath tub styles are the regular tubs that are surrounded by walls, the drop in style, and the free standing style. Square tubs come in sizes 5' to 6' long, by 30" to 42"wide, by 15" to 24" tall. Corner tubs are usually the drop in style, and come in 4' to 6' along the sides. Of course some tubs are non mechanical and some are whirlpool.


Drop In Acrylic Tub
Antique Style Free Standing Tub with Legs
Free Standing Modern Tub Polymer
Corner Drop in Tub Acrylic
Plumbing Fixtures
When shopping for plumbing fixtures you definitely get what you pay for. Most of the plumbing fixtures in the big box stores are half plastic, and all look very similar. My advise would be to visit some showroom and search online for good quality and a design that fits your style.
Vanity Faucets come in Single Hole, Mini Spread, Widespread, Vessel Tall, and Wall Mount.
Vanity Sinks come in Under mount, Vessel, and Integrated sink and Counter top.
Under Mount Sink with Single Hole Faucet
Glass Vassel Sink and Faucet
Integrated Sink and Countertop
Shower Plumbing Fixtures have a valve that controls volume and heat, or separate valves for both volume and heat. If there are multiple fixtures to operate like two shower heads, or body jets then a diverter valve is also needed. Again you get what you pay for in quality and design. A good quality shower valve and trim is important because if the valve fails the you have to tear up the new awesome tile job to replace it.
Shower Faucet Controls
Highend Shower Slider and Body Jets
Shower Doors
Frameless 3/8" shower doors are more expensive than the framed, but really are a must have in the nicer bathrooms. Thre are high end frameless slider doors like the one in the picture above. For custom sized frameless shower glass often a glass shop is used to have the glass cut and installed.


Frameless Shower Glass
Frameless Shower Glass